AfricaLive.net speaks to Africa's capital market leaders and entrepreneurs on the role of the capital markets in driving the growth of SMEs across the continent.
Are African exchanges beginning to find the levels of liquidity that could have a significant impact on African entrepreneurship? Are many SMEs overlooking the capital markets due to a misconception on what they can offer to companies at their stage of growth? And what steps are being taken to drive collaboration between Africa's markets?
Access is to capital is only part of the challenge facing Africa's entrepreneurs. What do financial services sector leaders see as the key elements for entrepreneurial success in Africa? What can be done within the business community to create the environment for growth for Africa's SMEs?
"Our goal is to contribute more to the financing of SMEs. More than ninety-five per cent of companies in Africa are SMEs, so their importance cannot be stressed enough. They also provide half of the jobs and account for half of the growth in the continent, so their importance is undeniable. 
Exchanges can play a role in educating SMEs, which is what we do in our Elite Programme. We need to educate them because most SMEs feel like capital markets are not for them. They feel that capital markets are for large corporations, and they think we are too complicated and expensive for them. We, therefore, have to advise them on how they can achieve their goals through the capital markets. We advise them to put in place good governance, good business plans, and a great vision for growth. 
As an exchange, we go out of our way to reach out to organisations and exchanges throughout the continent. One of our main partners is the West African regional exchange based in Cote d'Ivoire. We also have three West African companies enrolled in our elite programme already."
Mr Karim Hajji, CEO of Casablanca Stock Exchange and President of the African Securities Exchanges Association.
"Mauritius can be the base for African focused entrepreneurs to develop from.  A priority for us is to grow the Africa Board of The Stock Exchange of Mauritius (SEM), and in time it will grow and the depth and liquidity of our markets will grow.
SEM is gearing up to play a far greater role in the region as a capital raising hub.
Much more can be done to raise the profile of Mauritius as a capital-raising platform for international issuers, namely for those looking at investing in Africa and other emerging regions of the world. First, there is a need to develop a local ecosystem that is supportive of good companies having good growth prospects which choose Mauritius and SEM as their capital-raising and listing platform. Institutional investors from Mauritius should be willing to include these companies in their investment portfolios."
Sunil Benimadhu, CEO of The Stock Exchange of Mauritius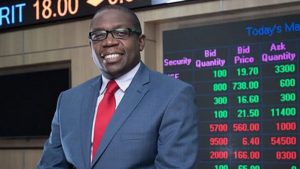 "Nairobi Securities Exchange has always had the belief that for Africa to grow it must trade with itself. We are now working as part of the Association of Stock Exchanges of Africa.
Since the establishment of the association, we have created one unified platform for all 29 exchanges in Africa to meet twice a year. The purpose of the association is to drive the sharing of knowledge and begin discussions around cross-border trade and really addressing the issues affecting the African continent.
We are also working on a pilot program that will be called the African exchange linkages program, through this program we will be linking six stock exchanges as the first phase. This will allow investors in other markets to have a window into what is happening in other markets. This will also allow ease in exchanging as this can be done directly from the country the person would like to exchange from.
We believe we are playing a big role as a leading market by providing direction and integration."
Geoffrey Odundo, CEO of Nairobi Securities Exchange
"The role of the stock exchanges is to be the mirror into the countries. We are also supposed to be platforms that provide accurate exchange of information. This simply comes down to fostering good corporate governance and filtering this down to our citizens through education.
If I look at Rwanda today it is a country that has grown to have an efficient government, is well organized. I would even say the government approach to business is almost perfect. The capital markets and public sector need to strive for the same and it starts with fostering good corporate governance and creating fundamentally sound businesses that will protect business and investors."
Pierre Celestin Rwabukumba, CEO of The Rwanda Stock Exchange
When it comes to business here in South Africa, the availability of capital is not the biggest issue. The most significant issues are skillset and scalability. The failure rates of SMEs is the biggest concern. However, businesses with the right vision and expertise often fail fast, learn fast, and come back again. Cases of failed businesses that bounced back are all over Silicon Valley.
Success as an entrepreneur involves soul searching to see if you are cut out for this. This is because it is a very hard road to take, and not everyone is built for it. It has to be way more than a desire to make money. It has to be vision and passion-driven. When you realise that entrepreneurship sits well within you, then you will begin to learn your lessons as you go. One of the most important lessons is patience. You have to learn and believe in the concept of the one thousand days milestone. This concept says that one achieves their first major milestone after they have clocked a thousand days.
The second lesson is the lesson of overnight success. The "overnight success" in an entrepreneur's journey is a decade. After a decade, you begin to see a lasting legacy forming. We used to look at our peers and wonder why our operation was not growing faster. We then realised that most of our peers had been in the business for over ten years. Once we embraced the concept of "overnight success" we were a bit easier on ourselves. We went easy not in terms of work ethic, but in terms of patience and perseverance.
Samantha Pokroy, CEO of Sanari Capital. South Africa.