Ghana has set out ambitious plans in recent years to reposition African economies on the global stage by moving "beyond aid" and accelerating its investment through foreign direct investment and industrialisation.
The establishment of the African Continental Free Trade Area is a significant milestone for the outward-looking economies of the continent, despite Covid-19 now leaving many plans on hold or moving backwards.
Under the ambitious pro-business, pro-investment leadership of President Nana Afuko Addo, Ghana seems to be in a good place with impressive growth figures to back up the optimism.
However, the long term challenges for Ghana are numerous. Youth unemployment is already alarmingly high and described as a "threat to national security." On top of this, like most African nations Ghana faces the challenge of a rapidly growing youth population in a world moving into the fourth industrial revolution.
Ghana also sits at a crossroads as it defines its relationship with the international community. Ghana's leadership talks of moving "beyond aid" but the challenges in doing so have been laid bare by the Covid-19 crisis. An additional 1bn USD has been received from the International Monetary Fund's rapid credit facility, to tackle a slowing economy, tightening financial conditions and exchange rate pressures.
In this special report on Ghana, AfricaLive is asking Ghana's leaders where it goes from this crossroads.
How can governments, universities and industry form the necessary partnerships that will create the graduates and companies of tomorrow?
How can Ghanian companies take the next step in their development? How can Ghana's private sector be a force in the African Continental Free Trade Area?
What are the major trends, challenges, and opportunities that will shape the future of the country?
And who are the leaders and companies of Ghana driving innovation to take the national economy to its next stage of development?
AfricaLive will speak with Ghana's leaders, policymakers and entrepreneurs who are shaping the future path of the nation.
"It is not right for a country like Ghana, 60 years after independence, to still have its health and education budgets being financed on the basis of the generosity and charity of the European taxpayer. By now we should be able to finance our basic needs ourselves.
Singapore, Malaysia and South Korea have done it and we need to have the attitude that so can we.
There are things that we need to do on our side in Africa.  We can do better in terms of our own domestic resource mobilisation, move away from raw materials exports and insists on processing and adding value to our own resources. 
Countries like Ghana see ourselves in the noble opportunity of helping to mobilise all of this capital around the world for investment in Africa's infrastructure.
Fostering entrepreneurship and innovation in a bid to advance the creation of jobs and economic prosperity is at the heart of my regime's undertaken work.
"We want to bring greater dignity to the lives of millions of people in Ghana. We want to build a Ghana Beyond Aid. I believe very strongly that Ghana is on the cusp of a new, bold beginning, which will repudiate the recent culture of failure."
President Nana Afuko-Addo, President of Ghana
"With the Ghana Beyond Aid campaign, we seek investment and trade partnerships, not the characteristic hand out and gifts from developed countries
We have consequently as a country engaged in several reforms within the economy. One of the most fundamental is digitising the economy.
Our strategic investor priorities are on energy, infrastructure, industrialisation and agro-processing. We want to ensure that we have reliable and affordable energy to be able to transition (industrialise) our economy from one that was purely dependent on the export raw materials and resources into one of value addition and productivity, so that our export earnings are at the higher end of the value chain.
Ghana like the rest of Africa, has had decades of its ideological experimentations to find the right way of governance. Today, almost all the African countries are inculcating democratic governance and constitutional rule. In that sense, Ghana is the ideal country to look at as a continental spearhead in that regard.
My message is simple. Ghana is uniquely attractive. We are in the centre of the world (longitude zero and latitude zero) we have 365 days of sunshine, and very hospitable people, we are politically stable and believe strongly in the rule of law. We have set an agenda of ensuring macroeconomic stability through fiscal discipline and significant reforms for aggressive growth. We are on course and not turning back. Ghana is easily described in three words – Opportunity, Openness and Optimism……. and that is who we are. We are ready for partnership and linkages… A Ghana Beyond Aid."
R Yofi Grant, CEO of Ghana Investment Promotion Agency speaks on positioning Ghana as a continental spearhead, and adding value to Ghanian industries.
"One area that is critical for Ghana's future is building ties between the private sector and academia.
We realised years ago that there was an unfortunate disconnect between industry and academia. As an institution, we set out to find a solution that would promote more synergy with the industry. One of the answers came in the form of the Institute of Applied Science and Technology. We started that institution to help bridge the gap between academia and industry. It has worked well so far because engagements with the industry have been steadily increasing. Our efforts also include the formulation of a science pact with the government, which will help advance academia-industry meet-ups. The government has also set aside large tracts of land for the development of industries close to our area. We will benefit immensely from new research and partnership opportunities when this materializes. Our PHD program is also undergoing modifications to become more industry oriented.
I am confident that this university will keep being a model for success and uprightness in the country and region. We are happy to exist in a peaceful country that I believe is on the right trajectory. Our president is promoting the idea of a "Ghana beyond Aid", and it is gaining traction in the country. If we achieve that objective, it will send a message to other African countries that this is a possibility."
"We can't afford to fail. We're the first Ghanaian company to venture into oil exploration. We are in a unique position to set a precedent for indigenous companies looking to participate in the upstream sector. If we succeed, then we'd have sent a strong message – that Ghanaians are just as capable. That's really important to me."
"For me, the most important reason we are pursuing this is to prove that Ghanaians can do it. We have a trading business that is doing well, and I could easily take the safe route to making more money by investing in real estate or something less tedious. But we look at ourselves as the indigenous pacesetters in this industry. If we are successful – and we will be, new local players will come up, and that's very important for the ecosystem."
Kevin Okyere, Founder & CEO of Springfield Group on pioneering a Ghanian owned and operated segment of the oil & gas industry.
"When the President talks about Ghana beyond aid, the concept is that for 60 years we sent our cocoa and timber abroad and we got very little in terms of revenue – and then resorted to depending on the West for support (aid).
'All the countries that we depend on have a deep entrepreneurial culture. Why can't we, with all the talent we have here, make money and expand the economy so we can create jobs?
"About 48 percent of the youth between the ages of 18 to 30 years in the country are not working; they don't have the jobs, and we must reverse this situation
Invariably, it's not so much the fact that there are no jobs; I think the kind of people companies wants to hire sometimes are not there. It shouldn't be the other way round where we (the ministry) go and say the students have graduated so hire them. We want the companies to tell us the kind of students they want."
Ibrahim Mohammed Awal, Minister of Business Development of Ghana on Ghana's challenge to build an economy that serves the youth of the nation.
"Waste management is traditionally a government function so it is not supposed to be commercially viable because people expect these services. We create opportunities here by partnering with authorities. One of the things we do is reaching out to governments and letting them know that we can provide value through our knowhow. 
We have just signed a deal worth over 200,000 Euros over a period of two years with the European community, that will have the union utilize the effluent water for irrigation. The project clearly does not cost much considering the fact that water is being cleaned and reused, biochar is being generated, as well as gas. 
Our approach here in Ghana is the private to public model where we recognize that the government has a need it cannot service on its own. We invest the money and the know-how and have a return on investment set. Once the government is on board, we then seek out other partners to help us enhance the project in its different stages. 
Our business has been gaining traction in Africa because until recently, very few governments were willing to invest millions of dollars in waste systems. There is a new consciousness when it comes to waste management in Africa though, and that is why we are doing business in various African countries. Our operations are well appreciated in Ghana and we have hosted members of parliament, cabinet ministers as well as the president himself. We want to rehabilitate the sewer line in Tema. We will do the Tema project once we receive a pending investment from Exim Bank in France. 
The project would have been already underway if it wasn't for the Covid-19 disruption we have had since February.  African governments do need our services and our resourcefulness when it comes to seeking funding, the barrier is the time it takes to get the management contract signed. Ghana alone needs about 2 Billion dollars to get its complete sewer system done. It may take many years before the funds are put together and work is underway. The need for forming strong partnerships can, therefore, never be understated."
Haidar Said, Managing Director of Sewerage Systems Ghana speaks on private-sector driven solutions and driving innovation in Africa's waste management industry.
"For Ghanian companies, there are enormous opportunities from the Continental Free Trade Agreement. We have a bigger market access now; we are talking about a more-than-1 billion population.  So if you are able to produce in large volumes, you can actually satisfy this market.
On the other hand, there's a threat. If you do not develop a good strategy and develop your capacity, others will flood your market with their goods – and even the local industries that are already here will not be able to survive.
It is imperative that we build our capacity, expand our production base with funding, technology and expertise, and identify the products we in which have competitive advantage producing for the African market," he said.
It has been suggested that to transform the country's economy, Ghana must embark on an industrialisation agenda that will depart from the one that depends on the production and export of raw materials to become a value-added industrialised economy.
To shift from mere rhetoric to concrete action, government has taken bold steps to see to the establishment of one factory in each of the districts across the country."
Seth Twum Akwaboah, Chief Executive Officer of the Association of Ghana Industries comments on the growth opportunity of Africa's Continental Free Trade Area.
"M&G is producing about 78 different products for about 800 customers, which include the Ministry of Health, Ghana Health Service, private hospitals, mission hospitals, pharmacies, chemical sellers, and more. We definitely have a plan to expand the pharma business because lots of goods are coming into Ghana from global funding.
We are in the process of relocating our unit so that we can implement WHO good manufacturing practices and eventually obtain pre-qualification. Today, among ECOWAS countries, Ghana, Nigeria, and Ivory Coast are the only ones with a solid pharmaceutical or industrial base; most of the francophone countries do not have a good industrial base. We see that as an opportunity and are trying to expand our business into those markets".
Gopal Vasu, Managing Director of M & G Pharmaceuticals on developing Ghana's industrial base to become West Africa's export hub.
"I strongly believe that social and technology innovators in Africa ignore policy and politics at their peril. The challenges of the continent are such that innovators require a strong exposure to both in order to advance the new models that are required to scale fresh solutions in Africa".
"As an African organization, our influence with global organisations has been predictably limited. Given the global character and scale of the problem we definitely need more influence to make more progress. We have also not been very impressed by the orientation of several of the governments in Africa to this problem. Sometimes, regulation has tended to get in the way rather than smooth things along".
Bright Simmons, Founder and President of Mpedigree
"We speak a lot about Africa rising, but I realised that the Africa rising narrative didn't make sense if Africans were not rising. Our governments have been inadequate when it comes to managing the drug supply chain, which means that more and more people are forced into the private sector to get their medications.
When people look to the private sector, they are adversely affected by the lack of regulations. Most African countries are a free pricing market where governments do not set drug prices. You can walk into two pharmacies that are next to each other and the cost of each drug is vastly different. There is also a failure of government and also a failure of private structures that would enable the private sector to guarantee drug development".
Gregory Rockson, Co-Founder and CEO of Mpharma
"There is a boom in the fintech industry with a number of payment applications here in the country. We have a payment application we run in collaboration with Stanbic Bank called slidepay. We are in a unique position in my opinion having travelled a bit around Africa, and it seems Ghana has something unique going on with regards to fintech and payment applications.
In recent times, we have had the Central Bank clamp down on us requiring that we be regulated. Our company grew on their blindside and it's very interesting. We welcome regulation as long as it does not stifle innovation. So many fintech applications are doing well and there is potential for growth in Africa. There are also a lot of tech hubs in agriculture and CSR activities around educating children in technology. There is a great market here and a great opportunity and we are happy to play in this space".
Claud Kweku Hutchful, Co-founder and CEO of DreamOval Ltd on the development of tech hubs and fintech in Ghana.
"We have to think about how we can add value to our natural resources. We have to industrialise by manufacturing most of the construction materials that we use in the sector. We have to forge an alliance when it comes to the development of Africa by coming together to forge the road map for the future of Africa.
The energy sector is one we have to look at for our development because everything you see around you is subject to the fact that some power generation system is running and giving us light. This shows us the importance of energy, and if we want to industrialise Africa we have to start thinking at how we can be more sustainable in terms of our energy supply."
Kojo Jones, Founder and CEO of Empire Domus speaks on Ghana's future built on beneficiation of its natural resources.
"Africa has not been industrialised in the last two hundred years. We the developers, private sector, government and the people haven't asked ourselves why we are not developing fast. There are countries like Singapore and Dubai that have been developed in our lifetimes. They got there by embracing industrialisation which is where we struggle as a continent.
People in my industry are forced to import everything to finish our projects. We have a deficit of forty-five million homes, if we build at our current pace it will take a thousand years to fill the void. We, therefore, have to start building our own industrial platforms that will stop us from going all the way to Europe to buy materials. If we have the industries here, our projects can be supplied in a week instead of having to wait three months".
Nana Kwame Bediako, CEO of Wonda World Estates
"MPS facilities in Tema Port is the largest container terminal port in West Africa, and the Ghanaian economy is the second-largest in the region. Growth is expected to continue.While considerable transit volumes bound for Burkina Faso, Niger and Mali go through the ports of Lomé, in Togo, and Abidjan, in Côte d'Ivoire, the neighbouring ports are not competitive enough to capture the traffic moving to and from Ghana for transit via land. We saw there was a better chance to compete for trans-shipment market volume while further securing our locally produced import and export volumes.
We have invested significantly in infrastructure, equipment and local talent, expanding our capacity and improving efficiency. The centrepiece of this campaign involves the building of a 3.5-km breakwater, along with dredging the access channel alongside the quay to a depth of 18m in order to accommodate the world's largest container vessels. Equally importantly, the expanded terminal will be running updated information technology and operations systems to reduce delays, and will receive a much larger fleet of cranes on the waterfront and in the yards to improve turnaround.
Our goal is to transform Tema Port into the leading container hub in West Africa. Tema Port operates an Integrated Management System in line with ISO 14001:2015 (environmental management), ISO 9001:2015 (quality management) and OHSAS 18001:2007 (occupational health and safety). Tema Port is the gateway to our landlocked neighbours i.e. Burkina Faso, Mali and Niger. Our transit corridors have been freed of most of the inspection barriers which hitherto caused unnecessary delays and increased the cost of transportation to the landlocked countries. We will continue to provide quality services and high operational standards in our operations to make Tema Port the most efficient port in the sub-region".
Mohamed Samara, CEO, Meridian Port Services Tema speaks the $500m expansion of Tema Port and developing Ghana as West Africa's maritime hub.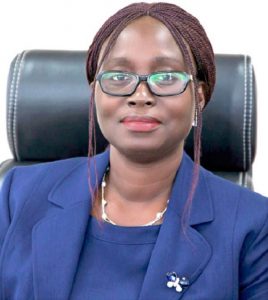 "Our goal is to transform Tema Port into the leading container hub in West Africa. Tema Port operates an Integrated Management System in line with ISO 14001:2015 (environmental management), ISO 9001:2015 (quality management) and OHSAS 18001:2007 (occupational health and safety). Tema Port is the gateway to our landlocked neighbours i.e. Burkina Faso, Mali and Niger. Our transit corridors have been freed of most of the inspection barriers which hitherto caused unnecessary delays and increased the cost of transportation to the landlocked countries. We will continue to provide quality services and high operational standards in our operations to make Tema Port the most efficient port in the sub-region".
Sandra Opoku, Director of Port-Tema speaks on the role of the port in opening up landlocked West Africa and boosting intra-African trade.