There are few industries as pivotal to driving Africa's sustainable economic development as the civil engineering sector.
No shortage of challenges lies ahead in the development of Africa's built environment. These challenges are, primarily, financial; how can capital be raised to improve infrastructure and living conditions across the continent?, and environmental; how can a continent of over 1.2bn people (and counting) develop without accelerating climate change and degrading the natural environment?
Shaping a path of truly sustainable economic development on the African continent will need engineering minds at the forefront of policymaking, strategy, and delivery. 
As the leading economies of the continent seek to accelerate industrialisation, does Africa's civil engineering sector have the depth and capacity to deliver on the mega-projects required for growth?
Who are the innovators that will find solutions to challenges around affordable housing, the infrastructure gap, skills shortage, access to capital and environmental impact?
AfricaLive.net speaks with sector leaders from across Africa to understand how African civil engineers seek to shape the future of the continent.
The Debate
The Future of African Cities
According to the African Development Bank Group (ADBG), Africa is the fastest urbanising continent in the world.
The continent's rapidly growing population of over 1.2 billion people, includes 50% of the population under the age of 20, giving Africa the genuine opportunity to transition into a global powerhouse.
However, population growth, combined with legacy issues from poorly planned colonial-era cities leaves African urban areas in need of a rethink.
The ADBG states that between 40,000 and 50,000 people are added to African cities every day, and where housing is available, it is simply not affordable for the vast majority of Africans.
By 2030, 15 cities in Africa will have populations over 5 million, most of whom will live in informal settlements.
There is an urgent need to develop urban areas that are offer better living conditions and facilitate economic growth and job creation.
If African cities can be reimagined, clearly there lies opportunity beyond the challenges. Africa is rapidly urbanising. The continent's population of 1.2 billion is expected to double by 2050. Over 80% of that growth will occur in cities. With better urban planning, investment to tackle the housing crisis, and investment into physical and digital infrastructure Africa's cities can be the drivers of economic development.
Finding solutions to the challenges facing Africa's cities will require collaboration between architects, engineers, urban planners, financiers and government policymakers.
What steps must be taken now to tackle the affordable housing crisis and build the world-class cities of Africa's future? 
"Opportunities are abundant in housing. Reaping from the opportunities will first need us to find cheap ways to build houses. We must identify and make use of inexpensive building materials so that costs passed down to final clients remain low.
The government must chip in by ensuring we have adequate infrastructure. When a construction firm has to build up pathways and amenities themselves, those costs are reflected on the cost of the houses they build. The government must rise to the occasion to ensure costs are kept within reach of the people.
We recently won an international accolade with the world-renowned Shelter Afrique, a housing finance agency, after taking part in their 5000 for 5000 housing project international competition. We are now working with them towards the building of affordable homes in Ghana."
Senyo Tetteh, Founder of S.Tetteh + Associates, Accra, Ghana.
The Infrastructure Gap
New estimates by the African Development Bank (AfDB) suggest that the continent's infrastructure needs amount to $130–$170 billion a year, with a financing gap in the range $67.6–$107.5 billion.
There is actually no shortage of finance available for large scale infrastructure projects in Africa. Over the past twenty years, international investors have shown an increasing appetite for investing in African infrastructure projects.
Addressing Africa's infrastructure shortfall is absolutely vital to uplift millions of people out of poverty, to drive industrialisation and economic growth, and to ensure this growth and development is delivered in a sustainable manner.
Writing on McKinsey, analyst Kannan Lakmeeharan states that barriers to investment projects reaching completion include a lack of political commitment to long-term infrastructure projects, weak feasibility studies and business plans, skills shortage, and poor program delivery in the planning, managing, and execution of large projects.
Unlocking the infrastructure paradox is one of the great challenges facing Africa. New infrastructure is required, investors are prepared to bring the necessary funding, but projects are not going ahead. Private and public sector leaders must collaborate to deliver the wave of African infrastructure projects that will transform the continent.
How can the engineering sector play a role in unlocking the potential of large scale infrastructure development on the African continent?
Which parts of the continent have the engineering skills in place to manage and deliver on large-scale projects and are, therefore, best positioned for economic growth?
"We have come to a stage in our development where we must identify and prioritise the building of a top ten or twenty projects, which our economy will bank on in the next decade.
There are always fears that a new administration might be apathetic to a project started by a previous regime. Fear of project stagnation keeps investors away. We must clearly stipulate projects that will be undertaken no matter what administration comes into power. A commitment to long term infrastructure projects will give investors the confidence to stay involved, and will also motivate local technocrats to push themselves so that they can contribute gainfully."
Michael Krakue, CEO of ADK Consultants, Accra, Ghana.
"The private sector must be confident in its ability to deliver. Our confidence and desire to deliver will let the government know that we are ready to start taking on major, impactful projects.
The government also has to have the initiative and foresight that's required to help build a strong local industrial base. The government can only do this by giving local businesses a chance to try and fail until they get it right. We have to create room for local entrepreneurs to gain experience; otherwise, we won't build a robust local economy. It's not only about awarding tenders but also building expertise and confidence through training and funding."
Samuel Larbi Darko, CEO of Losamills Consult, Accra, Ghana.
Skills Shortage & Future Technologies

In order for industrialisation of the African continent to be achieved within the framework of the continent's Sustainable Development Goals, a rapid increase in the number of qualified engineers practising on the continent is required.
Saurabh Sinha, Executive Dean, Faculty of Engineering and the Built Environment, University of Johannesburg, has warned that Africa needs at least a tenfold increase in relevant skills. To do this, it must dramatically raise the number of people who make it from the first year of an engineering degree through to graduation.
More than 500,000 people enrolled for degrees related to engineering and the built environment in South Africa between 1998 and 2010. Only about 15% graduated in that time. Engineering traditionally has a high drop-out rate around the world.
Furthermore, engineering as a profession is not static. Engineering skills should not be static. The dawn of the fourth industrial revolution is disrupting all sectors and industries. Clearly, the future of engineering on the continent is going to be shaped by its approach to technology adoption.
How can the higher education sector and the engineering sector work together to develop the engineering skills Africa needs to fuel its growth?
How will technology adoption shape the future of civil engineering in Africa? What new skills should Africa's engineers and students be learning to adapt to a changing industry?
"Unfortunately, in South Africa, and elsewhere on the continent, we are not providing our youth with the skills needed to be successful in this new economy. South Africa, and the rest of the continent, should assess its strengths and weaknesses, and address its challenges and take advantage of its opportunities, in this context.
In terms of the Fourth Industrial Revolution and its impact on the construction and engineering sector, government and all stakeholders should compare the skills needed to be successful in this new reality, and compare it to what we have and what skills we are providing our future generations with. The identified gaps should be addressed and a new generation of skilled workers should be created."
Monty Ditibane, Director, DBI Consulting Engineers, Johannesburg, South Africa.
"We can better engage with communities by relocating some of our departments and setting them up in these communities.
An engineering department, for instance, can be located at a manufacturing plant. This setup will foster better community engagement and will prepare the students better. In five years I want us to be living the fourth industrial revolution, and not just preparing students for it."
Prof. Rob Midgley, Vice-Chancellor of Walter Sisulu University, Mthatha, South Africa.
"Institutions of higher learning must remind themselves that industries are profit-making entities. Our job is to demonstrate our worth or end up becoming redundant. If we cannot provide the services that the sector requires because they doubt our delivery or standards, they will seek out other institutions of learning. We must, therefore, understand our industries so that we can identify gaps that if filled, will make them more substantial profits.
Universities must step away from having an entitled attitude when dealing with industry and instead develop their value proposition. If you become known for offering value, you will be sought after by local institutions as well as international outfits. If we embrace highly specialised competencies in civil works and telecommunications, our students will be highly sought after and our school will be placed on a pedestal."
Professor Otlogetswe Totolo, Vice-Chancellor of Botswana International University of Science & Technology.
Environmental Sustainability & Green Building

Much of Africa will feel the severe effects of climate change more harshly than anywhere else in the world.
Few would argue that building the infrastructure that could potentially lift millions of Africans out of poverty is worthwhile if the very same people have their standard of living impacted by extreme weather patterns, drought, and rising sea levels.
The problem facing the sector is that many of the materials used to build our cities and infrastructure are incredibly damaging to the planet.
The production of concrete and steel, taken together, is responsible for 15% of worldwide CO2 emissions.
Around 8% of global CO₂ emissions come from cement production alone. As other industries such as energy and agriculture reduce their share of emissions, cement production may account for nearly a quarter of all human-driven CO₂ emissions by 2050.
Decarbonising industry and the economy is essential to improve the balance between our ecological footprint and the planet's renewable resources. This would provide the best possible chance for humanity to mitigate the effects of climate change.
Outside of construction, in urban planning and industrialisation of the economy, careful planning is required to reduce the impact of economic development on the environment.
Should Africa's engineers play a role in shaping a future which embraces the principles of green building?
What would a truly sustainable future for engineering, construction and infrastructure development look like on the African continent?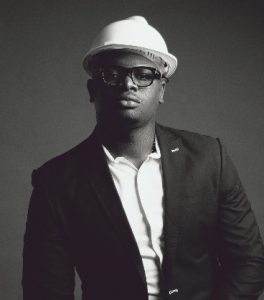 "I believe that architects, engineers and all those in the field need to work together to make this green breakthrough. There has to be continuous learning and a willingness to reduce carbon emissions in all we do. We have the hottest continent in the world, and we have to push the green agenda as much as possible.
We ensure that the green building message is not just left to activists and those in the engineering and building field. We are advocating for it to be incorporated into the education system. Social grassroots activism is also important because we must teach every household to at least have one tree in their compounds. We must educate by doing or helping the community get such initiatives done. Once the people understand the importance of green living, then green building will no longer be a foreign idea.
Amid the green push, we are trying our best to make locally available green materials for building. We recognise that working with cement leads to a lot of carbon emissions, and our approach is to limit cement use as much as possible. Our focus in every country we work in is to use locally available materials that produce little to no carbon emissions.
We regulate cement use to about 10 percent and use locally abundant substitute materials like timber and glass."
Sewa R. Capo-chichi, CEO of Capeaux Ltd, Accra, Ghana.
Intra-African Trade
The arrival of the African Continental Free Trade Agreement (AfCFTA) marks an opportunity to increase cross-border collaboration, partnership and trade within the construction and engineering sectors.
Furthermore, the COVID-19 pandemic has highlighted the fragility of many supply chains and should concentrate minds on the need to build stronger local and regional ties.
The impact of COVID-19 on the sector has been considerable, particularly in South Africa. Spending on infrastructure projects and implementing AfCFTA to drive international trade are seen by many as the best hopes for the industry to bounce back.
What impact will AfCFTA have upon the construction and civil engineering sectors in Africa?
Where is there opportunity developing for African firms to expand cross-border?
"[During the disruption caused by COVID-19] there were impacts on the cost of building materials, for example. When China shut down, the cost of building materials in Kenya rose by 5 – 10%. This may not have a major impact on a residential project, but it becomes prohibitive in a billion-dollar infrastructure project. This reinforces the need for better intra-regional trade linkages.
The delay in implementing the AfCFTA agreement, along with the pandemic downtime, allows companies to reinforce what they have been doing to get systems in place, and better prepare to take advantage of emerging opportunities. At a strategic level, it allows them time to assess the impact of the Covid-19 pandemic on the sector, and on companies in the global north. In countries badly affected by the pandemic, a lot of the industrial capacity is in small to medium-sized companies which have been incredibly badly impacted, so this may present new opportunities for African companies to look at where they can take space in that market."
Duncan Bonnett, Director: Market Access and Research at Africa House, Johannesburg, South Africa.