By Devon Murray
The American University in Cairo ranked 1st place in Egypt and Africa and 159th out of 956 institutions in this year's University of Indonesia GreenMetric World University Rankings, an annual publication focused on raising awareness towards sustainability within universities.
The University jumped almost 200 places as compared to 2020, when it came in at 323rd place among 912 institutions.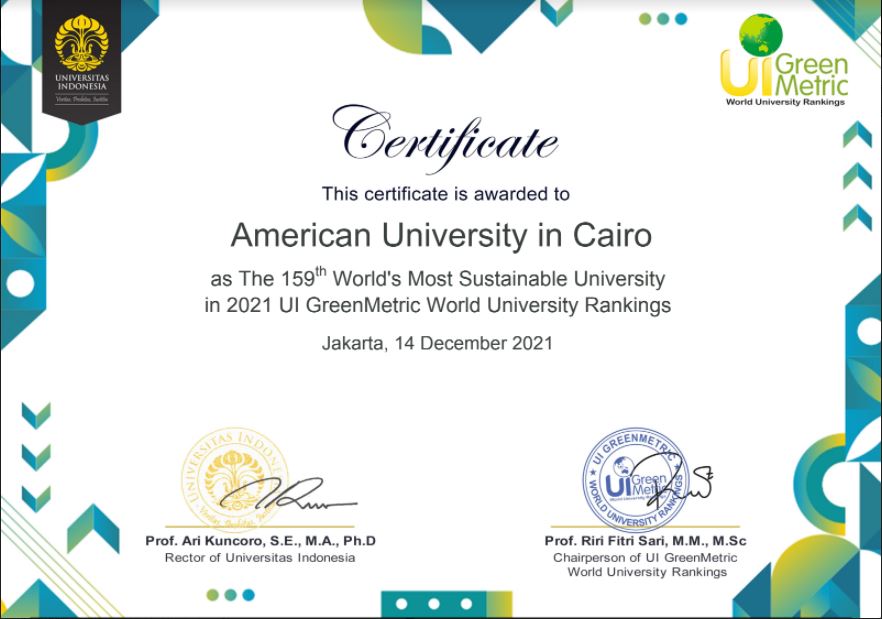 Yasmin Mansour, AUC's sustainability director, noted great pleasure and a sense of achievement when the rankings were released. "As a leading institution in global education, we at AUC have the unique opportunity to champion sustainability within Egypt, Africa, the Middle East and the world at large," she remarked.
As well as holding 1st place in Africa, AUC is 21st in the Middle East.
"I believe that sustainability sits at the core of development," Mansour said. "In Africa, in particular, it is crucial that we make the best use of our natural resources to ensure that our communities continue to thrive for generations to come."
Using a questionnaire filled out by universities, the University of Indonesia looks at several key categories related to sustainability to calculate the rankings, including transportation, energy and climate change, setting and infrastructure, waste, water and education.
This year, indicators related to COVID-19 joined most categories, such as "the percentage of additional hand-washing facilities during COVID-19" and "number of innovative programs during COVID-19."
Read the original article here.