Key Points
---
Innovative Research: Dr. Tshepiso Ndhlovu explores medicinal plants for treating childhood diseases, addressing infant mortality and financial strains from conventional treatments.
Untapped Potential: Indigenous medicinal plants offer untapped potential for pediatric healthcare, especially in economically constrained rural communities.
Rich Inventory: The study provides a comprehensive inventory of medicinal plants and indigenous knowledge crucial for children's healthcare, emphasizing the need for further research on safety and antibacterial properties.
Socio-economic Growth: Dr. Ndhlovu envisions leveraging medicinal plants for economic growth, proposing a collaborative research framework to utilize their therapeutic properties for human welfare, particularly in South Africa's North West province.
---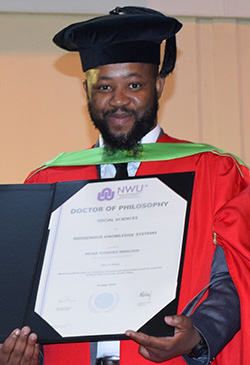 Dr Tshepiso Ndhlovu, an NWU PhD graduate, has completed promising research on the use of medicinal plants to treat children's diseases.
Childhood illnesses make a major contribution to infant mortality rates worldwide, and the high cost of conventional treatment exacerbates the problem by putting a financial strain on rural populations.
South Africa, with its high poverty and unemployment rates, particularly in rural regions, is no different. Plants are still used for therapeutic purposes in these rural societies, since indigenous populations depend on natural resources such as plants for medicine, food and cosmetics. However, the potential of traditional medicine for treating paediatric illnesses has largely gone untapped.
The goal of the study was to investigate the medicinal plants used to cure childhood diseases, as well as to add to the knowledge and inventory of indigenous knowledge holders (IKHs) and herbal vendors in South Africa's North West province.
Dr Ndhlovu says the study yielded a comprehensive inventory of medicinal plants and indigenous knowledge relating to children's healthcare in the area.
"However, further research is needed to examine the phytochemical profiles, antibacterial activity and safety concerns regarding these discovered plants. The results of the study emphasise the economic potential of medicinal plants in North West. With adequate study and development, low-cost goods may be created from these plants, thus improving the socio-economic lives of the population in the province," he says.
While the future possibilities of medicinal plants being used to treat children's disorders are good, coordination among diverse stakeholders is required. "The research suggests producing and promoting these medicinal plants as part of a participatory management action plan to maximise their advantages. This strategy would boost the economy of South Africa's underprivileged communities in North West," adds Dr Ndhlovu.
Given the importance of the study results, he suggests that a collaborative research framework for the inclusive transformation of indigenous medicinal plants be established. This framework would seek to categorise and interpret the beneficial features of these plants for the benefit of humans, especially those living in the research region. Dr Ndhlovu's research into the promise held by medicinal plants to alter the lives of the residents of the province may be fully realised via joint efforts and an emphasis on inclusive research.