The social and economic impact of neuromuscular diseases (NMDs) is staggering. These diseases, which include motor neuron disease and muscular dystrophies, can cause premature death or lifelong disability and are believed to affect one in every 400 people – meaning about 20 million children and adults across the globe.
There is hope on the international front, however. Precise genetic diagnoses, gene discoveries and new therapies are having a positive impact on patient care and well-being in developed countries.
This is not yet the case in developing countries with under-studied populations such as South Africa, where more research is desperately needed to develop effective genetic diagnoses and treatments for rare inherited disorders such as NMDs.
This is where the North-West University (NWU) is playing an important role, both as partner in an international collaborative study and as coordinator of the core South African team that will investigate NMD in the region.
NMD researchers from six countries (the UK, South Africa, Brazil, Turkey, India and Zambia) have come together to form the International Centre for Genomic Medicine in Neuromuscular Disorders* (ICGMND), which is funded mainly by the UK's Medical Research Council. Officially launched in 2019, the centre is led by the University College London (UCL) and aims to make significant inroads into NMD research, especially in developing countries.
Collaboration bolsters local research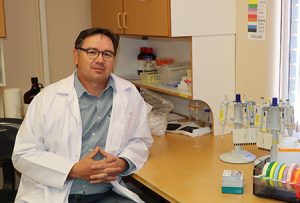 Prof Francois van der Westhuizen, deputy director of the School of Physical and Chemical Sciences at the NWU, coordinates the South African effort. The core team consists of researchers and clinicians from the NWU, Stellenbosch University, the University of Cape Town and the University of Pretoria.
As part of this international collaboration, and making use of local networks, these experts will boost national research and diagnostic capacities. Two key objectives are to recruit patients with NMDs in the South African population and to perform extensive clinical and genetic analyses to identify the mutations that cause these diseases.
Another important objective of the collaboration is to train a new generation of researchers and clinical academics, which is also an opportunity to address equity and transformation in this area of local science.
Local experts, academics and students will work together, liaise, have access to international specialists and research and make contributions as part of the international team.
Study addresses local challenges
Prof Van der Westhuizen says the capacity to clinically diagnose the various forms of NMDs in the general South African population is currently limited to a few centres.
"This is why we want to recruit diverse groups of children and adults with NMDs and analyse the information to find known disease variants and genes and identify new ones. Novel disease variants have already been identified in our population groups."
He says the study will primarily increase the number of local patients from all population groups who have a precise genetic diagnosis, which will improve patient care. Participation in the ICGNMD will also increase knowledge about the comparative genetic architecture of NMDs across four continents, while providing opportunities to be part of future therapeutic developments.
Garnering resources for international impact
"Through the study we will develop cloud-based capturing systems for clinical and genetic data and bioinformatics support to discover new disease genes, and increase the number of patients on the database with a precise diagnosis."
Francois says that through the study, gene discoveries will provide an unprecedented scientific opportunity to use new advances in bioinformatics and disease modelling to gain a deep understanding of how these diseases function, progress and respond to therapy.
"This global initiative has the potential to be a ground-breaking study. Past experience has shown us that a coordinated effort is much more effective and likely to succeed than isolated efforts."
He says by working together, the group hopes to make a lasting impact on the more effective genetic diagnosis of inherited disorders in developing countries and ultimately on the lives of patients suffering from these diseases.
*The ICGMND is headed by Prof Michael Hanna, director of the Queen Square institute of Neurology of the University College London.
He led the establishment of the ICGMND and was at the helm of this strategic partnership with Newcastle University and Cambridge University, together with experts across five continents. The partnership includes funding and the inclusion of resources and staff from centres in Brazil, India, South Africa, Turkey and Zambia. The collaboration is initially planned for a five-year period.