Nigeria's Covenant University has rapidly climbed up the Times Higher Education World University Rankings in recent years. It has been recognised as Nigeria's leading university and within the top 100 universities from emerging markets. Now, with the launch of the Covenant University Centre for Research, Innovation and Discovery, the Ota based institution is targeting a place amongst the world's elite institutions driving research & development.
Collaboration with industry and international universities will be vital to Covenant's mission to fund research which tackles humanity's major challenges through the Centre for Research, Innovation and Discovery. Vice-Chancellor Prof. Aderemi Atayero is calling for engagement with the international business and academic communities to combine with indigenous knowledge in order to drive research and innovation. 
In an interview with AfricaLive.net, Prof. Atayero explained "Internationalisation is vital for us. As much as we believe strongly in sourcing for indigenous solutions for our problems, we also welcome international solutions where applicable. 
"Partnerships around the world are, therefore, essential. 
"We have solid partnerships with international institutions such as Coventry University in the United Kingdom and the Massachusetts Institute of Technology (MIT). Our MIT partnership is very exciting because we like their approach to entrepreneurship.
"We recently set up a platform that invites teams of researchers to come and have a feel of our university. Inviting international faculty helps with the cross-pollination of ideas when it comes to research."
Covenant University projects aim to solve global challenges such as food security, climate change, poverty eradication, and technology adoption. The combination of the universities identity rooted in the ethical development of African leaders combined with a growing number of research partnerships could see Covenant emerge as a driving force of African development in the near future.
The Covenant University Identity: The Total Man Concept
Covenant University was founded in 2002 with a mission to bring about tangible change in how higher education was approached in Nigeria. The university identity is firmly focused on the development of the human spirit and soul, in addition to teaching and developing knowledge.
Prof. Aderemi Atayero explains how the universities 'Total Man Concept' that acts as the foundation of its educational identity came about; "Our founders recognised that there was a considerable gap when it came to leadership in Africa and thought to nurture that through this institution. Our core values intend to address the leadership vacuum and nurture a new breed of graduates.
"The founders of this university thought of ways around the status quo and came up with an institution founded on morals.
"This institution believes in social ideals of community building and core values that guide it. Our first core value is spirituality being a Christian mission institution. We operate on the principle that a human being is made up of the physical element, the spiritual and the soul. Each of these has to be developed to have wholesome people in society. 
"Integrity is also essential since our country has had a poor standing in the world in this regard. If we can develop integrity in our students at a young age, it will do wonders for the future.
"To cement our values into our students, we had to make changes to the curriculum. One of the ways we did this is by coming up with what we call the 'Total Man Concept'. This is linked with what I spoke about earlier, which is the three states of humans. It entails spiritual, physical, and soul education. This knowledge we believe will produce more than just the usual job seekers, but job creators through a course known as Entrepreneurial Development Studies. Our students take the course from the sophomore year to PhD level. This model has been supported and emulated by educators all over the country. Our institution differentiated itself by being a departure from what was the norm before 2002, to what we have today."
Covenant University Centre for Research, Innovation and Discovery
The university has four colleges, each of which is open to local and international collaborations, especially collaborations focused on solving existing and potential human race problems. The colleges are The College of Business and Social Sciences; College of Leadership and Development Studies; College of Engineering, and the College of Science and Technology.
The launch of the Centre of Research, Innovation and Discovery will further facilitate opportunities for private sector companies to collaborate with the university.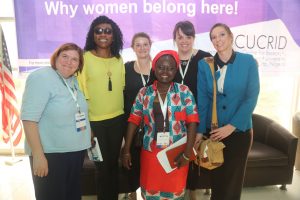 Covenant University Centre for Research, Innovation and Development
The centre is a key part of the university's ambitious plans to become one of the top ten universities in the world. Prof Atayero explains "On our tenth birthday, the chancellor came up with a vision of us being one of the top ten universities in the world, by the time we turn twenty in 2022. The vision seemed so far-fetched for such a young university, but one of our core values is the idea that anything we conceive we can achieve. 
"We went into research to find out what it takes to be one of the top universities in the world. We looked at the ranking models and coined our eight-point agenda to achieve our vision. The very first thing on the plan was to develop an institutional culture that will create an environment conducive for the achievement of our vision. After getting the culture figured out, the rest becomes straightforward. 
"The rest of the agendas all fall under the umbrella of our research agenda. This covers five agendas, which are research, citation, teaching, internalisation and industry partnership. These five are used to rank universities globally, and we take them seriously. We are also blessed to have a proprietor base that has the capital to allow us to do what we need to achieve a high ranking."
Covenant University Research Clusters
Currently, Covenant has 30 research clusters, each targeting an individual area of development.
Example Covenant research projects include;
Smart and Green City Focused Research
In the next 30 years, Africa's population is projected to double to 2.5 billion people, and its urban areas will be home to an additional 950 million people. Building liveable, efficient, environmentally friendly cities is a critical challenge facing African leaders.
Recent research output from Covenant includes;
Energy-saving potential for smart cities

Energy security, trade and transition to a green economy in Africa

Biometrics authentication for medical records in Smart African Cities

Hybrid renewable power supply for rural health clinics

Women and green jobs in construction industries

The burden of road traffic crashes, injuries and deaths in Africa. 
The Future, Government and Security in Africa
Addressing security threats and terrorism at a governmental level is a priority for African leaders. Nigeria continues to face significant security threats and overcoming them will require collaboration from government, academia, security forces and civil society.
Conflict research produced at Covenant includes the following areas;
The discourse of terror threats: Assessing online written threats by Nigerian terrorist groups

Activism, campaigning and political discourse on Twitter:

A nation divided against itself: Biafra and the conflicting online protest discourses.

SMS & civil unrest.

Digital discourse of radical movements: exploring stance and positioning in Nigerian militant groups' online discourses
Plant Science
Increased demand for food, driven by population growth and dietary change, along with the degradation of natural resources and climate change, make the challenge of achieving food security for all crucial. An estimated 90 million Nigerians are vulnerable in terms of food security. 
Achieving food security, which is the United Nations' Sustainable Development Goal number 2, has huge significance in ending hunger, improving nutrition and enhancing the general well-being of humanity. 
Research at Covenant will focus on;
Genetic diversity studies in indigenous Nigerian plants

Genetic engineering and production of recombinant of bio-pharmaceutics and industrial proteins in plants

Identification and isolation of lead compounds in plants for new drugs discovery
Industry Partnership Built on Entrepreneurial Culture
The university is now attracting the type of partnership with Nigerian and multinational companies that will allow it to fulfil its vision. Recently, BOSCH went into partnership with Covenant to promote skill acquisition, entrepreneurship and sustainable education in Nigeria.
Covenant University and BOSCH team members
Lack of collaboration between universities and industry has long been recognised as a barrier to economic growth in West Africa. Covenant University's rapid emergence as the leading and fastest-growing university in the country can now act as a catalyst for driving industry-academia partnership in the region. 
Prof Atayero concludes by highlighting the entrepreneurial culture at Covenant which is vital to developing strong industry-academia relations; "We go out of our way to ensure that we are not held back by any government bureaucracy. Covenant University receives no funding from the government; we pay taxes just like any other private institutions. It's sad to say, but we cannot depend on the government to help us achieve our mission. We are not expending any energy trying to make the government see what we are doing. Instead, we are working on producing products that make visible changes in society. 
One of our graduates is the famous Uka Eje, CEO of Thrive Agric. Thrive Agric was able to come into being because we teach our students to see problems and offer solutions by coming up with profitable products and services. Another graduate of this university created a company called Softcom, a software company that has attracted the attention of the Vice-President's office in Nigeria. When there is a critical mass of such solution providers, the state has no option but to listen and open doors."
Companies and entrepreneurs interested in exploring partnership opportunities with Covenant University can contact; The Director of the Directorate of International Office and Linkages Dr Ada Peter on diol@covenantuniversity.edu.ng