A partnership deal between Ain Shams University's Faculty of Environmental Studies and Research and the Federation of Egyptian Industries has been signed. The partnership will lead happen by a way of a program that will help the factories affiliated to the center and qualify them to become environmentally friendly factories, pointing out that the Federation of Industries considers the Faculty of Environmental Studies and Research at Ain Shams University a center for environmental assessment and monitoring of factories in the Arab Republic of Egypt
---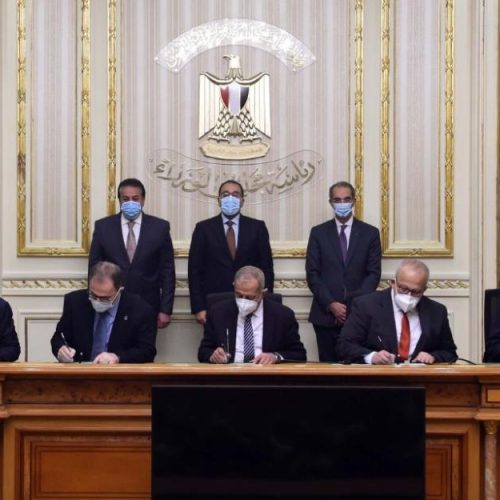 AUC has signed an agreement with the Egyptian Ministry of Communications and Information Technology and Dell Technologies in Egypt aimed at building capacity in artificial intelligence and data science.
The agreement comes as automation continues to become an integral part of all sectors of the economy, with President Ahmad Dallal naming data science and artificial intelligence among AUC's main priorities for development.
---
The American University in Cairo ranked 1st place in Egypt and Africa and 159th out of 956 institutions in this year's University of Indonesia GreenMetric World University Rankings, an annual publication focused on raising awareness towards sustainability within universities. The University jumped almost 200 places as compared to 2020, when it came in at 323rd place among 912 institutions.
---
Under the patronage of Prof. Dr. Mahmoud El-Metini, President of Ain Shams University, Prof. Dr. Ayman Saleh, Vice President for Graduate Studies and Research, Prof. Dr. Hesham Tamraz, Vice President for Community Service and Environmental Development, and Prof. Dr. Noha Samir Donia, Dean of the Faculty of Graduate Studies and Environmental Research, and within the framework of the prior cooperation between the Faculty of Graduate Studies and Environmental Research at Ain Shams University and the German Cologne University of Applied Sciences, steps have been taken to activate that cooperation, said Prof. Dr. Noha Samir Donia.
---